Linseed Oil and Wax Finishes
A Few Words About Our Linseed Oil and Wax Finishes
Some may wonder why I use a linseed/tung oil and wax finish for most of my furniture instead of the more modern polyurethane, lacquer or other synthetic finishes. I have chosen this method and medium for both it's natural appeal and it's non-toxicity. Plastic-like top coats often come in the way of the natural beauty and feel of finely crafted furniture. Thick coats of polyurethane also can present a nightmare to repair when they age and become cracked or chipped.
In contrast, a hand rubbed oil and wax finish, while not as durable, is easily repairable, similar to oiling a fine piece of leather. An exception to the rule is my occasional use of a hand rubbed varnish or shellac on some choice pieces where durability of a finish against light or soft wood from heavily used pieces demands a tougher finish.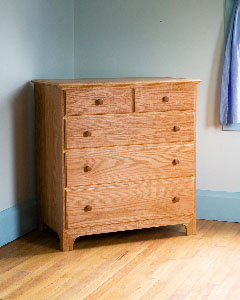 In any case, all finishes used are made from nontoxic ingredients for the sake of our environment as well as to avoid off-gassing that modern high tech chemical finishes can cause to you as a customer as well as myself as the craftsman. Hand rubbed finishes are more labor intensive, but well worth the additional time and effort.
With the growing concern and steady interest in such environmentally friendly finishes in our times, I'm thankful to be able to offer this to you, my customer. The only complaint I have ever had to date was one customer with such a high level of sensitivity to nearly any finish that I had to provide furniture with no finish at all!